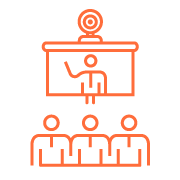 Enterprise Video Conferencing
Audio-Visual solutions to support flexible working, business-expansion, upgrade or relocation.
---
Get Expert Advice
---
Our specialist audio-visual and IT network engineers have the skills and expertise to help you to make informed decisions about technology. We will work with you to plan, design and implement a modern audio-visual solution that best meets the requirements of your organisation.

Seamless Integration
---
Our engineers ensure that your new boardroom audio-visual solution is integrated with existing data and voice systems to provide full capability.
---
Our partners
Virgin Media, Cisco Partner, Cisco Meraki, Cisco Powered, Corning, Rackspace, Nexans, APC Partner
---
Enterprise Solutions
---
Let us enhance the power of remote communication in your conference room, meeting room or theatre, as well as on desktop computers, tablets and smartphones.
---
Our Clients
The Children's Society, UK Biocentre, Christian Aid, Versus Arthritis, AIS Interiors, PSG Global, W2O, Markel, Aggregate Industries, ISG, Canon, Sophos, Help for Heroes, Clyde & Co, Gardiner & Theobald
---
Security
---
With us, you achieve the full advantages of secure remote working in your organisation. Our operation meets high standards.
---
Our accreditations
ISO 9001, 27001 and information security ISO 14001.
COMPREHENSIVE SERVICE
---
Audio-Video Systems
---
Let us enhance the power of remote communication in your conference room. Our service includes hardware, cabling, software setup and after sales support.